Tuesday 6th December 2016
AGM and Awards Night
The AGM and Awards night will take place tonight on Tuesday 6th December at the Ponteland Welfare Club starting at 7.00pm. Players should look to attend if they can, a free buffet is also on.
Tuesday 11th November 2016
Roy Storer
Ponteland Cricket Club is very sad to have to announce the passing of former President Professor Roy Storer.
Roy served as President from 1982 to 2005, during his 25 years in office he oversaw many changes in how local league cricket is played and run and our change of leagues for the 2002 season.
Roy also hosted the annual club barbeque throughout this time, opening up his garden whatever the weather and with the flag of the country touring England that year on show where Ponteland Cricket Club's 1980 Centenary Flag is now currently flying at half-mast. The President's XI fixture where past and present Ponteland players faced each other with a selection of Guest players was also played the same weekend.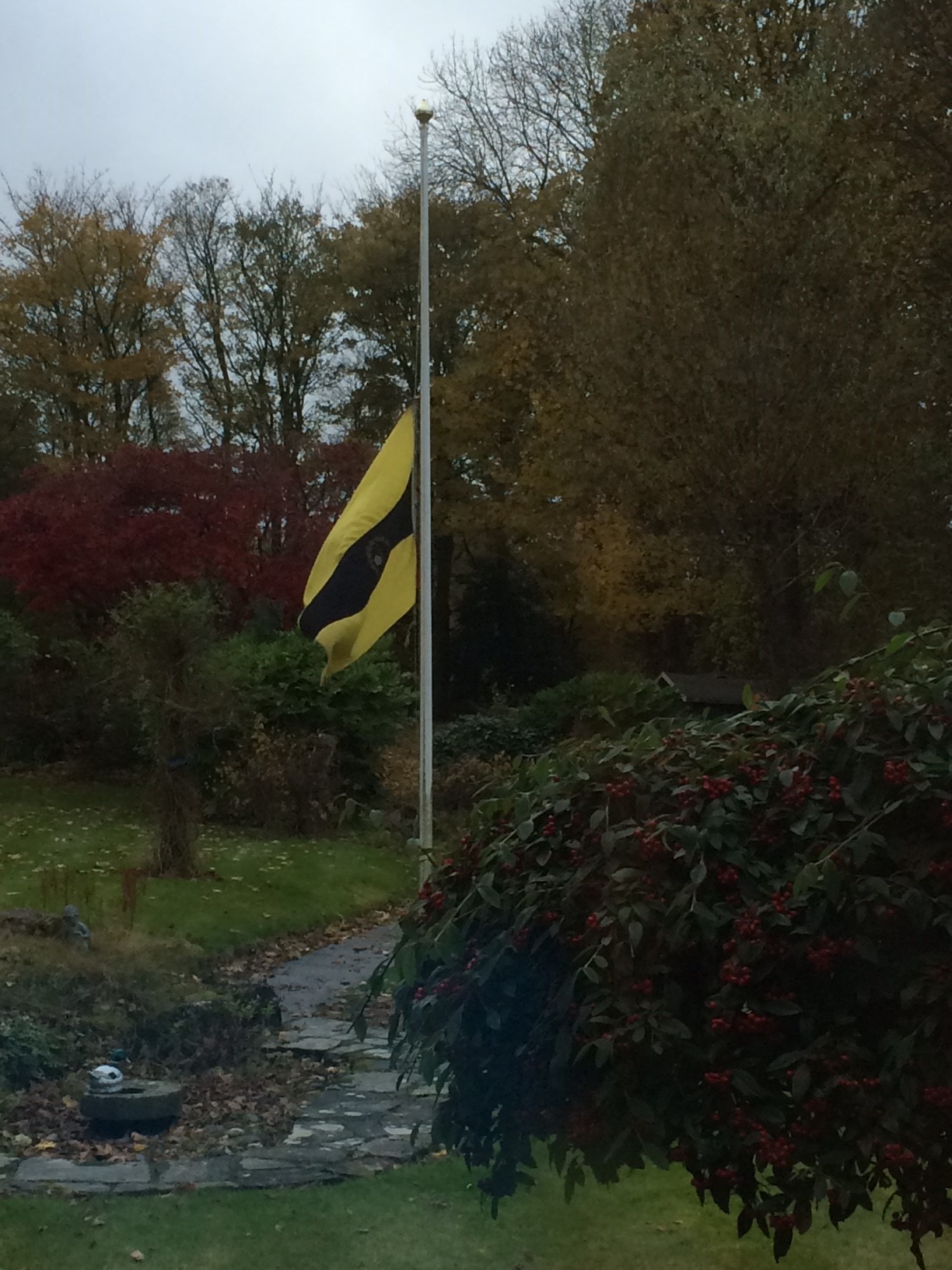 He continued to be a strong supporter of Ponteland, attending every Saturday that he could until recently and was delighted that his Grandson Thomas made his senior debut last season playing alongside his son Mike in the Sunday team.
Our thoughts and prayers are with the family at this time.
Sunday 28th August 2016
2XI stumble but still defeat City, 1XI defeated again
On a sunny Bank Holiday Saturday the 2XI were once again beset by unavailabilities, this time the latest to re-appear in the team after a lengthy absence was Alan Varley who answered the 'we're still one short' call on Friday for his first game in the team since 2012. City won the toss and opted to bat and Duncan McGregor soon had them in trouble with 3 quick wickets, his opening 7 over spell costing just 7 runs. Oli Parker (1-27) claimed the fourth during this time. The next two batsmen though pushed the score along before a mis-hit off Neil Pinnock saw Mouhammer caught by keeper Chris Morgan. Pinnock with a caught and bowled claimed another before Joe Boaden got his first quickly followed then Mohammed was caught by Alan Varley for 0 and when Ahmed missed one and was stumped for 35 the innings was not long in finishing as Pinnock then had the last wicket caught by Andy Morgan to set a target of 116 for victory, Pinnock finishing with 4-19 and Joe Boaden (2-27).
In reply Chris Morgan (4) was dismissed early on but 14 year old Boaden took on the responsibilty of opening the batting for the first time and a solid defense and patiently waited for the bad ball which he consistently put away, often for 4. At the other end Paul McReady was more aggressive before being dismissed LBW for 29. The return of opening bowler Little then accounted for Boaden for a 2s best of 33 off 87 balls and when Andy Morgan (10) was then dismissed with the score on 96 Ponteland were still well placed. 7 more were added before Jack Dobbing on his first 2s appearance of the season and Neil Pinnock (12) both fell. McGregor with 7 took the scores level but was stumped and next ball the eighth wicket fell as Oli Parker was bowled. Chris Barlow defended the hat-trick ball before finishing the game by despatching a full-toss back down the ground for 4 to complete a maximum point win.
The 1XI suffered a heavy 7 wicket defeat against the same opposition despite scoring 244-7. Stuart Taylor scored his third century in the 1XI with 105 while Ifty Fazal (43), Jordan Armstrong (30) and Ben Harris (22) accompanied him in 50 partnerships. Bowling was a different matter though with Liam Cosgrove (2-33) and Stuart Taylor (1-9) having any success, Cosgrove's second a brilliant one handed diving catch down the leg-side by keeper Dan Wright.
Scoring 244 batting first and losing set a new record defeat in this fashion for the team passing the previous total of 236. Taylor has now become the 4th player to score 5,000 runs in the 1XI and joins Phil Ottaway, Andy Morgan and Graham Irvin with 3 centuries in the team, only Wayne Ritzema and Lloyd Anderson have scored more.
Heavy rain saw the Sunday game against Ovingham cancelled
Sunday 7th August 2016
2XI 'veterans' overcome Alnmouth
The 2XI made it 5 wins in a row despite the August holiday period biting hard into the availabilities with Simon Edmundson making his first appearance in the team in 2 seasons, Chris Barlow appearing for the first time since 2009 and only 2 players under 30 in the side. Stand-in skipper James Ealey lost the toss and the team took to the field in the warmest conditions of 2016 so far. In the absence of Duncan McGregor it was Liam Cosgrove and Ash Parker who opened the bowling and they proved up to the task with some excellent tight bowling and it was Cosgrove who removed both openers with just 11 runs on the board. At the end of their opening bowling spells Cosgrove 2-11 off 5 and Parker 0-9 off 6 had given nothing away but any respite the batsmen were hoping for with the switch at both ends to spin was soon dashed with Nick Brown striking twice in his second over, both bowled before Paul Gerrard, keeping wicket with both Chris Morgan and Matt Darwood away then took a top-edged catch off Pinnock in the next over. Brown then struck again in his next and then took his 13th catch of the season off Pinnock and when Chris Barlow at the unexpected position of slip (for the first time in 582 games for Pont) then took the catch off a top-edge from Brown the innings had collapsed to 40-8 and an early finish was on the cards. Alnmouth's bottom order though had other ideas and any suggestions the pitch was to blame were quickly put away as they batted patiently and over the next 17 overs added 64 for the 9th wicket Brown with a Ponteland best of 4-31 and Pinnock (2-18) both completing their spells along with Ash Parker who's 10 overs cost just 23. It was Cosgrove though who finally broke the stand with Gray (47) picked up with a low caught and bowled but number 11 Baines continued the resistance with a further stand of 24 before he edged one behind to Gerrard off Cosgrove (4-26), number 10 Robertson left unbeaten on 29 and a target of 129.
In reply Ealey continued with the form of the previous week when he scored 99 and accompanied by Andy Morgan they set a solid platform for the run-chase with 59 in the first 15 overs before Morgan was caught for 21. Brown joined Ealey in the middle and any hopes Alnmouth had receeded with no chances being offered as the pair put up a strong defence and waited for the deliveries to put away, at one point 7 overs passing for the addition of just 3 runs. Ealey completed his 3rd fifty of the season but with victory just 7 runs away was stumped for 68 off 118 deliveries but Brown (28*) and Marr (3*) completed a maximum 20 point win.
The 1XI lost to bottom side Benwell & Walbottle for the second time this season - no further details are available.
The 3XI season ended on Thursday with a heavy thunder shower flooding the ground just moments before the toss was due.
The Eagles suffered a heavy defeat on Tuesday as a team containing 6 juniors, all from the Under-15s, was dismissed for just 56 against Civil Service chasing 124.
Sunday 24th July 2016
A busy week !
This week has seen a lot of games and for a change with the weather staying fair bar the concession by Stocksfield U15s all matches were completed
The Eagles were first up on Wednesday where several heavy showers during the day resulted in a soft wicket at Matfen. The Eagles batting struggled to cope, only a battling innings of 41* by Stuart Taylor giving the Eagles a score of just 87. Ratcatchers batted more aggressively, when the ball was in the air it cleared the field and they reached the target in the 11th of their 14 overs. Taylor's 41 took him past Anthony Quarrell's single season most runs record for the Eagles
The Third Eleven travelled to Hexham Leazes off the back of last weeks morale boosting win over Morpeth. Batting first Neil Stanley took the lead, reaching his first Pont fifty and with six overs to go had reached 79, but a bought of cramp lead to his downfall as with a rare mid-week century within reach a quick single proved too much and he was run out with the partnership on 122. James Ottaway came and went with a six and out while skipper Simon Raw reached 53 before his dismissal, the innings finishing on 164-4. In reply an early wicket fell for Jai Punia (1-24) with a good catch out in the deep while a low caught and bowled by Jeff Oliver (1-34). Leazes batted well, although the run-rate proved ultimately too high and it was only in the penultimate over when Amrit Punia (1-0) struck that the third and final wicket fell as they ended on 122-3.
Friday saw the Eagles back in action, this time at home against Adders, the fifth attempt to play this game ! Batting first Adders posted a steep 163-5 off their 14 overs, Ben O'Brien with 77 before being run out by Jeff Oliver. Jordan Armstrong took his first wicket with a good catch by senior debutant Dan Baines back pedalling at square leg. After the early loss of Armstrong (0), Stuart Taylor (40) and Jonny Appleby (45) rebuilt the innings but once both and John Lumb (0) were dismissed the chase was over although their was time for Dan Baines to score 8 in his first innings, Eagles eventually ending on 110-7. For the second time in a week Taylor surpassed another of Quarrell's Eagles records becoming the highest all time runscorer for the side.
Friday also saw the U13s play their postponed fixture from the weekend with a defeat away at Alnwick
Saturday saw the 1XI and 2XIs both take on Percy Main with two maximum point victories achieved. The First Eleven were set a target of 166 after Ifty Fazal took 4 for 27 and Andy Denyer 3 for 32 with 4 dismissals behind the stumps from Dan Wright. In reply Ponteland lost a few early wickets but Ben Harris scored his first fifty for the 1XI and Niall Penfold 24 before a pair of unbeaten twenties from Wright and John Gardner completed a 7 wicket victory.
The 2XI's total of 191-6 was based on John Lumb's 83, falling to the last ball of the innings then Duncan McGregor with figures of 5 for 35 set up a 70 run win with Oli Parker 3-12 and Neil Pinnock 2-8 finishing the job
Sunday will see the end of the scheduled league fixtures for both the U13s and U11s and the Sunday team face Old Record Players before the Eagles return to action on both Monday and Tuesday before the rest of the week is thankfully quieter for the groundsmen !
Monday 18th July 2016
It's George's Day for the Sunday team
Having struggled to find eleven players for the Sunday fixture at Ovingham, Neil Pinnock finally made it to a full team with Matt Darwood offering to take to the field along side his son George who at 10 years, 10 months became one of Ponteland's youngest ever players. Bowling first Ponteland's accurate bowling attack soon had Ovingham reeling as Jeff Oliver's miserly accuracy of this season continued, rattling the stumps four times in his six over spell as he finished with 4-9. Liam Cosgrove at the other end likewise conceded few runs but only struck the stumps once in his 1-11. The next over from Chris Barlow (1-15) was unsurprisingly not as accurate as he tested his recovery from a rib injury but finished his over on a high with a caught and bowled for the sixth wicket. Jai Punia (1-6) enduced an edge behing then skipper Pinnock (2-8) quickly picked up the next two wickets including the ever dangerous Dave Lee for 24. With nine wickets down it was time for George Darwood to bowl and his three tidy overs looked like going unrewarded when his dad dropped a chance at slip but beat the defences to strike with the last ball of his over to end the innings on 61 to become the youngest ever Ponteland senior wicket taker.
In reply Ponteland had a solid start Matt Darwood and Jack Dobbing putting on 30 before Jack was bowled for 10. Matt having reached 20 retired and two further wickets quickly fell with Parmy SIngh (1) and Toby Morrison (2) both caught. Any chance of a repeat of the teams batting failures were quickly put aside with two steady innings from Shaun Crompton and Jai Punia. With the target down to 10 Crampton was able to finish the innings with a couple of boundaries to finish unbeaten on 16 and Punia on 7 for a 7 wicket win in the 17th over.
As ever an enjoyable fixture against Ovingham played in the right spirit but it was George's day, his fielding and accurate bowling despite never playing before with an adult ball or on a full-sized pitch impressing all watching.
On Saturday the 1XI were defeated by 6 wickets by Consett despite an unbeaten 92 by Stuart Taylor. The 2XI successfully chased 192 with 6 wickets to spare with Paul McReady scoring 88 and John Lumb 61, Duncan McGregor taking 3 of the 6 Lintz wickets to fall conceding just 18 runs.
Thursday 13th July 2016
U13s catch the cup
Last night the U13s faced South Northumberland in the County Cup final on a sunny evening at Ponteland with a good crowd of supporters from both sides. Batting first Ponteland got off to a steady start as good accurate bowling from Fletcher, Moody and Clark seeing Amrit Punia and Rory Nicholson adopt a watchful approach with just 24 runs off the first 7 overs. There was little let-up in the bowling as the next two on continued to keep the scoring down with Green making the first break through with Punia bowled for 18 and Ciara Boaden (1) was then bowled by Kanakala with Nicholson following shortly bowled by Kanakala for 9. Rios Haire though took advantage of a few short balls to hit 3 boundaries in his 9 ball innings before being caught of Kanakala for 12 and Tom Storer was then caught off Krishnan without scoring to leave the score on 59. With the opening bowler Fletcher returning for his remaining overs Sam Burrin and Zak Old both took advantage of anything short with several twos and two boundaries each to bring the score up to 96 before Fletcher bowled Burrin for 16. Old then tried to grab a single off the last ball of the innings but was run out for 12.
With 96 to chase South North started positively with 16 off the first two overs before Green (9) was bowled by Rios Haire and 4 balls later Fletcher (4) was trapped lbw. The first ball of Amrit Punia's next over was then skied and Aidan Brennan just failed to cling onto the catch. With fingers still smarting from that two balls later it went even higher but Aidan clung onto an excellent catch and was mobbed by his team mates with the game turned on its head in the space of 8 balls. The wickets continued to tumble with Zak Old catching Scott to give Haire (3-16) his third then Rory Nicholson was sucessful with the LBW appeal against Harper. Runs had now dried up and Tom Storer (2-14) was the next to strike, Punia taking the catch to dismiss Kanakala then Clark bowled for 3. South North weren't finished though and Moody and Krishnan started to push the total towards the target. Another good catch, this time low at point by Punia off Charlie Maddison (1-6) then put Ponteland back on top with Moody scoring an unbeaten 18 and Nile 5 but an 11 run win was completed in the low sun to some excited celebrations before the cup and winners medals were handed out.
Ponteland's catching was excellent with two very difficult and crucial chances taken and some committed fielding from all the players as a first junior cup win since 2005, this team containing 5 players from the Under 11s pointing to a bright future for the club. Congratulations to both sets of players on an excellently played game and also to team coach and organiser Mike Storer and Stephen Nicholson.
By winning the county cup the team now heads into the National Knockout rounds, facing Scottish side Grange on Sunday at Ponteland.
Sunday 5th June 2016
Fun in the sun at Bamburgh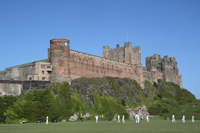 The sun came out and the cold northerly wind eased in the North East just in time for the Sunday team's annual trip to Bamburgh, there can't be many better places to play cricket on a day like this !
Winning the toss Pont skipper Chris Barlow asked the hosts to bat and Jonny Roxburgh fresh from a double century the weekend before set off in aggressive fashion with the score racing up to 30 in the first 4 overs before James Mole (1-24) claimed the first wicket with a good sharp catch in the gully by Tom Morgan. Jai Punia (1-32) then claimed the crucial wicket of Roxburgh for 31 with a running catch from Jeff Oliver at mid-off to make the score 58 for 2 off 9 overs. The change bowlers of Joe Boaden and Jeff Oliver then put the brakes on the innings in spectacular fashion, a good low catch by James Mole off Boaden at deep mid-wicket sparking a spectacular collapse as in the next 14 overs Joe (2-8) and Jeff (4-7) ran through the middle order to reduce the innings to 68-8. A succession of batsmen were bowled by Jeff's away swing with the only alternate dismissal a smart catch by keeper Nathan Fisher off Jeff. With the two bowlers spells finished though the 9th wicket battled back to reach 112 before Jonny Mole (1-21) bowled Richardson for 13 and the innings was completed the following delivery on 113-9, Billy Wright unbeaten on 25.
In reply Tom Morgan set off aggresively but was bowled for just 8. A few deliveries later it was two down as Jack Dobbing (1) was slow to respond to the call for a run and failed to make his ground. With injured Phil Barlow unable to bat it fell to 14 year old Nathan Fisher to join Jonny Mole and drag Ponteland back into the match. Both showed good application and pulled the score up to 44 before Mole (20) was caught off a miss-hit to point. Nathan continued to work hard before having reached a senior best of 13 off 41 balls spinner Roxburgh defeated his defences to leave the score 56-4. Parmy Singh then accelerated the innings with his usual belligerence with 4 fours in the next couple of overs one of which saw Roxburgh chase his own delivery to fine leg to field the leg byes as the nearest fielder ! Having taken the score to 89 though Singh (21) was run out and next ball Jeff Oliver (10) was bowled to put the game back in the balance. With Bamburgh's spinners giving nothing away, 13 overs conceding just 16 runs a battle of attrition developed with Chris Barlow particularly watchful while Joe Boaden was equally defensively minded but kept the score board moving when the opportunities arose. The runs required slowly crept downwards with Joe scoring 18 before Chris, off his 24th delivery, scored a boundary through mid-wicket to get off the mark then two balls later another delivery was despatched in the same manner to win by 4 wickets with 2 overs to spare.
Report by Chris Barlow
On Saturday the 1XI defeated Annfield Plain by 64 runs for back-to-back victories. The score of 222-8 was based on Niall Penfold (62) with his third half century of the season and Stuart Taylor who scored 58. In reply Annfield Plain were bowled out for 158, Ify Fazal with 4 for 19 and Andy Denyer 3 for 38.
The 2XI defeated Ryton with Ryan Gerrard scoring a century in a score of 198 while Duncan McGregor returned the remarkable figures of 10 overs 9 maidens 2 wickets for just 2 runs, the most economic spell ever for the second team.
Sunday 30th April 2016
1XI records tumble in the opening two weeks
Despite rain wiping out the majority of the second weekends fixtures, including our own 2XI's home fixture against Lintz, the 1XI got confirmation that Consett's ground had survived the weather so the team headed west to be confronted with a very damp outfield but a wicket as dry as could be expected although the temperature was not the warmest !
Debate in the changing room centred not on what to do if we won the toss but the lack of faith that skipper Jonny Appleby would win the toss in the first place. The predictions came to pass and after losing the toss Ponteland were asked to bat first. A disasterous start followed as James Davidson (1) and Jordan Armstrong (3) both out at 7-2. Stuart Taylor and Niall Penfold dug in, Niall scoring just 8 in his first 40 balls at the crease with Stuart scoring 14 in the same number of deliveries. The defensive approach though saw the score start to increase as the opening bowlers were replaced and the first 50 partnership of the season was posted before Taylor (26) was bowled by spinner Joshi as the ball sneaked past his defensive shot. Skipper Appleby (2) mishit Joshi but Paul McReady battled hard alongside Niall who had reached 43 off 91 balls when he was dismissed LBW by Milligan who followed up soon after with Dan Wright's wicket after he had scored just a single. John Gardner with a six took the score past 100 before Joshi bowled him with the first ball of his second spell then McReady was dismissed for a patient 15 off 44 balls with the score on 114. The final wickets of Duncan McGregor (7) and an unbeaten Andy Denyer (5*) took the score to 123 before number 11 Oli Parker was dismissed first ball with nearly 6 overs of the innings unused.
Ponteland needed an early breakthrough which came on the first ball of the fifth over as the ever dangerous Kamran Mansoor drove firmly to mid-off where Appleby took the catch off McGregor (1-21) but runs came quickly in the early overs as Consett's top order, who had been prolific the previous week against Annfield Plain, seemed intent on wrapping up the chase decisively. A mix-up over whether or not to take a third run led to Hunter's demise when he had scored 18 but the total climbed steadily to 63 as last week's centurion Waters punished any loose bowling. Just as it looked as though Consett were taking control at 63-2 it was Penfold who drew an edge from Waters to be caught by keeper Wright for 32. 2 balls later Winn was bowled off the last ball of Penfold's over and Ponteland were right back in the game as Penfold took his third wicket in 4 balls by dismissing Joshi LBW for 8. Runs started to become harder to score as the chances to score were blocked and it was Penfold again producing the edge to Wright to remove Consett keeper Chapman who has regularly scored runs against us for just 8 leaving the score on 86-6. John Gardner (1-37) returned for a second spell in place of Andy Denyer (0-17) and his first wicket of the season came by way of a one-handed grab by Stuart Taylor then with no more runs scored it was another 2 in 2 for Penfold with Forster LBW and Wilkinson caught behind by Wright first ball to reduce Consett to 91-9 and Ponteland suddenly back as favourites. Numbers 9 and 11 battled hard for 7 overs slowly lifting the innings to 98 before Forster was LBW to Penfold for a dramatic 25 run maximum point win.
Niall Penfold finished with the outstanding figures of 7-22 off his 9.1 overs, the best figures for Ponteland's 1XI in the Northumberland & Tyneside Senior League and also the best ever figures for the club since over limits were introduced. Dan Wright's second dismissal saw him overtake Bernie Jones as the 1XI's leading wicket-keeper with his 131st dismissal, in 16 games fewer than Bernie's total was made in.
The opening game of the season saw the 1XI suffer a club record defeat of 219 runs against Swalwell. Swalwell scoring 319-4 and Ponteland just 90. The game saw Oliver Parker's first league start in the firsts and a club debut for Jordan Armstrong.
Saturday 2nd April 2016
Fixtures
Thursday 10th December 2015
Indoor nets first details
The indoor nets are moving to a new venue, day and time.
Starting on Tuesday 2nd February at the RGS school in Jesmond
Seniors 8-9pm
Please note that due to the school's term dates the 8 weeks are not consecutive.
A Junior net session for U15s and U13s will run the hour before this (7-8pm). Age groups involved TBC
Date
2-Feb
9-Feb
23-Feb
01-Mar
08-Mar
15-Mar
22-Mar
12-Apr